For a map, driving directions, or a list of nearby hotels visit Yahoo Maps!
The 12th Annual


SAVE THE DATE!
The 12th Annual
SHORASHIM - ROOTS OF ISRAELI FOLK DANCE
AUG. 29 - SEPT. 1 (Fri. - Mon.)
A LABOR DAY WEEKEND OF NOSTALGIA ON BROADWAY

Featured Guest Teachers
DANI DASSA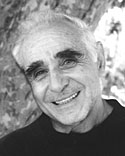 Choreographer of popular classics danced throughout the world such as Rachel, Bein Haray Hevron, Ashray Haish, Al Hanissim, Shedemati, Joshua (Yehoshua) & others.
DANNY POLLOCK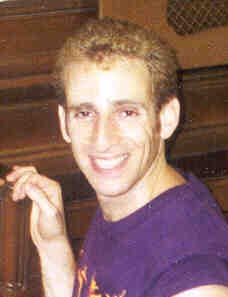 Master teacher of Israeli folk dance popular in the New York region who returns again to teach his classic repertoire dance workshops, a long established tradition at Shorashim.
A program commemorating the 100th birthday of
RIVKA STURMAN z"l
with Special Guest
AYALAH GOREN-KADMAN
Israeli folk and ethnic dance expert from Jerusalem's Rubin Academy of Music & Dance.
SCHEDULE & RATES AT THE DOOR
Contrary to some rumors, Dani Dassa was in great form at Shorashim 2003 and taught a total of three workshops, each of two hours duration, in addition to dancing and/or teaching over the course of four nights. For many it was truly a nostalgia weekend, since Dani was their first teacher and they came from as far away as Florida and California. Also, for me it was a very personal nostalgia weekend, since Dani introduced me to Israeli folk dance in a youth movement performing group (when I was an awkward teen with two left feet). I then learned all my first dances from Dani in intensive weekly afternoon workshops for a period of about half a year. Even the Shorashim dance studio was reminiscent of the studio where I was first introduced to Israeli folk dancing by Dani.
Dani brought a combination of energy, enthusiasm, knowledge, warmth and humor in teaching his beautiful and exciting dances at Shorashim. It was truly difficult to choose which among his over 50 dances he would teach. My wish list was a great deal longer than the time available for teaching. In any case, this is what was finally taught and/or danced at the weekend:
Dani Dassa's Dances at Shorashim

Circle (taught)
Al Hanissim
Chag Li
Eheye Asher Eheye
Esh Ali
Joshua (Yehoshua)
Kirya
Lach Yerushalayim
Mizmor Shir L'Shabbat (at Friday night Oneg Shabbat)
Saeynu
Shedemati

Circle (danced)
Arava
Ashrei Ha'ish
Baschuna
Eretz Zavat Chalav
Lemoladeti
Vaynikehu

Couple (taught)
B'neot Mireh
Einayich Yonim
Erev Shel Shoshanim
Sovevuni (yes, Dani co-choreographed the original dance for Hapoel
Yerushalayim, which we still do in New York)

Couple (danced)
Harei Chevron
Keren Or
Li Lach
Rachel

Couple (demonstrated)
Ani Nishba

In addition, there was a special remembrance of the 100th birthday of Rivka Sturman z"l (1903-2001) at a workshop taught by Ayalah Goren-Kadman. Ayalah was in great form with her high-energy and inciteful description about how Rivka established the foundation of Israeli folk dance, focusing on the three main sources she used - the Hassidic, Arabic and Yemenite. Here are the Rivka Sturman dances Ayalah taught (circle dances unless otherwise indicated):

Ahavat Hadassah
Be'er Basadeh
Hachayal Sheli Chazar
Hora Hassidit
Iti Milvanon (Couple)
Yarad Dodi L'gano (couple mixer)
Zemer Atik (with the original circle-couple format)

Also taught by Ayalah at the Friday night Oneg Shabbat:
Likrat Shabbat - Yoav Ashriel

Danny Pollock, as usual, brought his unique style of teaching expertise together with his good humor that can get even those with two-left feet to learn Israeli folk dancing. In his two repertoire workshops (primarily for beginners) and in the evening sessions Danny taught the followingeclectic mix of 16 classic Israeli folk dances (circle dances unless otherwise indicated):

Ahavat Haddasah #2 - Eliyahu Gamliel
Ahavat Raya - Shlomo Maman
Eshal Elohai - Moshiko Halevy
Harishut - Sara Levi-Tanai
Hava Nagila (line) - Zvi "Tacho" Hilman
Hedvat Neurim (couple mixer) - Shlomo Maman
Hopa Hey (triplet) - Rivka Sturman
Keshoshana (couple) - Yankela Levy
Ki Eshmera Shabbat - Shlomo Maman (at Friday night Oneg Shabbat)
Ma Navu - Raya Spivak
Mi Yitneni Of - Yoav Ashriel
Nevatim - Shlomo Maman
Sham Haray Golan - Yonatan Gabai
Uri Tzion - Rivka Sturman
V'David Yafeh Einayim (couple mixer) - Rivka Sturman
Zemer Ikarim - Tamar Alyagor

A video or DVD of Shorashim 2003 (as well as for all past 11 Shorashim weekends) can be obtained from Ben Hole at hol@obpa.usda.gov. The video will include all the 38 dances taught as well as many that were danced over the Shorashim weekend.
Finally, I wish to express my sincere thanks to Dani Dassa, Ayalah Goren-Kadman and Danny Pollock together with those who contributed to Shorashim 2003 in so many other ways - Ben Hole and Rob Markowitz for helping run the request sessions into the night, dance leaders Shoshana and Meir Beer for conducting the six-piece band that provided authentic music for dancing the way it used to be, Shira Belfer for working with the volunteers behind the scenes (especially preparing the great snacks - the fresh fruits were a real hit) and the dance teachers and leaders who joined us during the weekend, including Haddasah Badoch, Mishael Barzilai, Honey Goldfein-Perry, Ruth Goodman, Joan Hantman, Pam Kessler, Murray and Randy Spiegel, Les Posen, Danny Uziel and Itzik Zvi (hope I did not leave anyone out). All of you, together with the many dancers who came from near and far, helped make Shorashim 2003 one of the best and largest ever, thereby providing a great boost to the growing movement to keep the Israeli folk dance classics alive and well.
We look forward to seeing you at Shorashim 2004.

Shana Tova U'metuka,
Haim
Rikuday Dor Rishon
SOME INFORMATION ABOUT SHORASHIM 2003
Having been transformed into an "urban camp" seven years ago, Shorashim remains on Broadway with all events at Bridge for Dance, a professional dance studio with a great wooden dance floor (especially for those who still love to dance barefoot).

Shorashim continues the tradition of providing the best teachers at an affordable cost. In fact, you can attend all workshops and parties over three days and four nights for a little over $100. Our rates are about the same as last year, with $10 for workshops and only $15 for evening parties and marathons with our guest teachers. (We are now offering a special reduced rate for the whole weekend. See below UPDATE: FAQ's about SHORASHIM 2003).

You can pick and choose the workshop(s) and party nights that are appropriate for you, which can result in a considerable savings. Make your plans based on the preliminary schedule listed above.

Much of the day is free, with repertoire workshops scheduled in mid-afternoon followed by advanced-level workshops with our guest choreographer, so you can sleep late or take advantage of the numerous attractions in New York City during part of the day.

All registration will be on-site and there will be no pre-registration. Since space is limited, entry will be on a first come-first serve basis and latecomers will be admitted as space permits to each event. (For exceptions, see below UPDATE: FAQ's about SHORASHIM 2003).

As a courtesy to visitors to New York City attending Shorashim, a list of reasonably priced hostels and hotels within walking distance of Bridge for Dance will be provided, if requested. (For instructions about how to do this from the website, see below UPDATE: FAQ's about SHORASHIM 2003).

We are planning to have some videos just of Dani Dassa's dances available for purchase and expect that a CD will also be available.

A video will also be available of all the dances taught at the weekend from Ben Hole (who also has videos of previous Shorashim weekends).
UPDATE: FAQ'S ABOUT SHORASHIM 2003
Dancers from across the country (and outside the U.S.) have expressed great interest in coming to SHORASHIM 2003 in NYC, especially because it is a rare opportunity to experience a whole weekend of teaching by Dani Dassa. They also had many questions, some of which are answered below and may be of interest to you or your friends:

CAN I GET A REDUCED RATE IF I COME FOR THE WHOLE WEEKEND?

YES!!!
Those who wish to come for the complete weekend will have entry to all sessions at a discounted rate of only $100, which is 17% off the total cost for SIX WORKSHOPS & FOUR PARTIES/MARATHONS. You can even pay on Friday evening, when the first session begins. But let us know if you are interested, so we can reserve a weekend pass for you that will allow you entry, even if we limit the number of participants to a specific event.

CAN I RESERVE IN ADVANCE, IF I AM COMING FOR ONLY PART OF THE WEEKEND?

NO BUT!!!
If you are not from New York City, please let us know which events you are planning to attend, so we can assure you entry to Shorashim in case we need to limit the number of participants to a specific event.

CAN YOU GIVE ME A LIST OF HOTELS WITHIN WALKING DISTANCE OF BRIDGE FOR DANCE (2726 Broadway at 104th St.), WHERE SHORSHIM 2003 WILL TAKE PLACE?

Go to our website www.rikud.net, click on Location, "Yahoo! Maps", "Nearby Businesses - More", Hotels -- this will give you an extensive list of hotels in the local area at various price ranges as well as hotel reservation websites. The least expensive is probably the youth hostel, Hostelling International, one block away or the Malibu Hotel about a half block from the dance studio. But, you must make your arrangemnets quickly since Labor Day weekend is very popular time for tourists in NYC. You can also try the internet for more upscale hotels at reasonable rates. I used choicehotels.com and found very good rates for well under $100/night at the Quality Hotel on 94th St. and Broadway, about 10 minutes walk. Several SHORASHIM participants are staying there. You should also try other hotel reservation websites listed for comparative rates, which seem to change daily or even hourly. If you make such reservations, let us know how you make out so we can share the information with others.

ARE THERE SHABBAT SERVICES AVAILABLE NEARBY?

YES!!!
The Youth Hostel, ONE BLOCK AWAY on Amsterdam Ave. and 104th St., has Orthodox services on Shabbat. There are also many synagogues in the area -- Orthodox and Conservative - that have Friday night services. The closest one is Ansche Chesed, FIVE BLOCKS AWAY at 100th St. between Broadway and West End Avenue, a Conservative Synagogue with several different Minyanim.

WILL THERE BE FREE TIME FOR DOING THINGS IN THE BIG APPLE?

YES!!
Much of the day is free. The Rivka Sturman z"l program with all our guest teachers as well as Danny Pollock's repertoire workshops start at 2pm and the advanced-level workshops with our guest choreographer, Dani Dassa, are scheduled at 4pm. So you can sleep late or take advantage of the numerous attractions in New York City during the early part of the day. There is a two hour break between the workshops and the start of the evening party, so you can have leisurely dinners at the local restaurants, that include many ethnic, kosher and vegetarian ones to choose from.

IF I GO TO HORA KEFF, CAN I ALSO COME TO SHORASHIM ?

YES!!!
For those planning to go to Hora Keff, it is possible to participate in the last two days of activities at Shorashim, which is being held in New York City. In past years when there was such an overlap, dancers from as far away as Australia came to Shorashim after Hora Keff. This year there are workshops planned for Sunday afternoon August 31 with Danny Pollock at 2pm and with Dani Dassa at 4pm. The evening party begins at 8pm. The same schedule applies for Monday September 1. Over the weekend, music for dance parties will be provided by Ben Hole, Rob Markowitz & others (TBA), as well as a live band. For a preliminary schedule and costs per event check out our website at www.rikud.net or email us at rdr@rikud.net for the latest info. If you are not from New York City, please let us know if you are planning to come after HORA KEFF, so we can assure you entry to Shorashim in the event we limit the number of participants to a specific event on Sunday or Monday.

Have a great summer and hope to see you at SHORASHIM 2003.
INFORMATION
LOCATION: BRIDGE FOR DANCE, 2726 BROADWAY @ 104 ST.

(Easily reachable by the Broadway 1/9 subway line to 103St or by M104 Broadway Bus)

Stay tuned for all updates, including the schedule and reasonable rates for individual afternoon workshops & night-time parties/marathons.


INFORMATION & SCHEDULE CHANGES: 917-207-0093

E-mail to RDR@rikud.net